Cardboard Boat Design Suggestions
From past experience we can tell you that cardboard does float. We have had boats that raced in three different races the same day. The most common reasons for sinking are poor construction or bad design. Making or breaking the design is: stability (big enough so it doesn't tip), finding the best mix of width/length to paddle efficiently and provide the agility to turn around the buoy. Adding a keel to the front bottom of the boat, will keep the boat going straight with better turns.
• Set the Design Goal: Fun, Speed, Agility and Appearance
• Sketch out your design
• Estimate materials or plan how to use what you have
• Plan out what construction techniques will be used
• 1'x1'x3' box: will float 187 lbs.
if it'll hold you, it's big enough to float
• Flat bottom, sit-to-paddle & canoe styles - are the best/easiest
• Rudders help keep you straight but make turning difficult and
adds complexity to your design.
• Long boats go fast - but are harder to turn
• Short boats (<8') - are difficult to keep straight
• Best Length: 8-12 feet
• Best Height: 18 inches

allows room to sit/kneel & still paddle over the edge
• Best Width:
18"- 30"(max) for 1 person
48" wide for 2 people side by side
• Kneeling is a "power" position but sitting is more comfortable
• Cover all edges of cardboard - acts like siphon
• Cardboard Tubes make great framesCut for joining & bending
Fasten tubes together
• Cardboard Hull
1-2 layers, fasten & cover the seams
• Reinforce the area where you sit, kneel or stand
---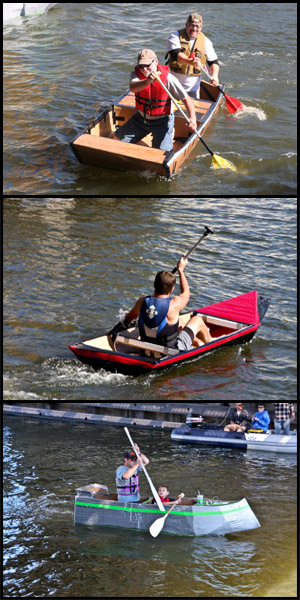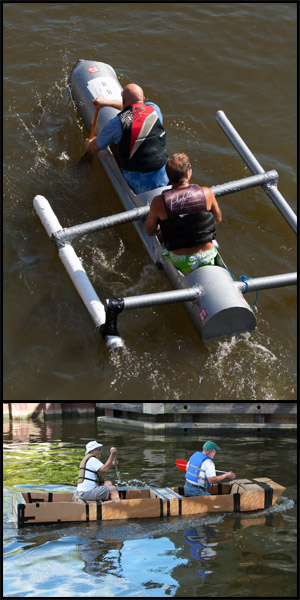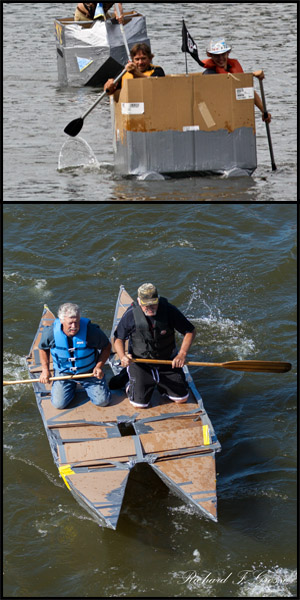 ---
The Rules for building a race boat
The ENTIRE boat must be built from paper cardboard & duct tape. Duct tape may be used to reinforce seams. Each team will be supplied ample amounts of double wall cardboard. Duct tape, box cutters, pencil, yardstick etc..... must be provided by contestants. Duct tape will be available for purchase during the build session.
Pre-treated cardboard such as waxed cardboard is allowed but will not be provided. Painting is not allowed on the day of the race. Painting is encouraged prior to race day with contestant supplied cardboard to promote individuality but must be dry prior to assembly on race day.
THE ONLY FASTENING MATERIAL ALLOWED IS DUCT TAPE!
Hull wrapping in duct tape is allowed.
Participants have 4 HOURS to build their boats on race day beginning at 9:00AM and commencing at 1:00PM. ALL ASSEMBLY MUST BE COMPLETED ON SITE DURING THIS TIME. ANY PRE-ASSEMBLY WILL BE DISQUALIFIED! Pre-cutting and decorating is allowed.
Designs are entirely up to the teams as long as they only use paper cardboard and duct tape.
NO wood, plastic, rubber, Styrofoam, fiberglass, or any flotation devices can be used.
NO caulk, epoxies, glues, varnishes, sealants, or sealant type paints are allowed.
NO electrical, gas, benzene, propane, or any other chemical propulsion system is allowed.
ALL PROPULSION MUST COME FROM THE ENTRANTS AND IS LIMITED TO ONE PADDLE PER PERSON. THE PADDLE WILL NOT BE PROVIDED BUT MUST BE STANDARD SINGLE OARS. DOUBLE OARS USED IN KAYAKING WILL NOT BE PERMITTED.
NO surfboard style boats will be allowed.
The crew compartment CANNOT be enclosed so as to interfere with any necessary escape.
Each boat must carry a closed gallon plastic jug with a 15ft. rope firmly secured to your vessel. If you have 2 participants, your vessel will require 2 separate plastic jugs etc.....
JUDGES WILL DECIDE ON THE INTERPRETATION OF THE RULES.
It is up to the teams if they want to use one or more paddlers during the race. For assembly you can have as many helpers as you would like.
Participant Rules
Every crewmember must wear a personal flotation device (PFD)
During competition, the crew must be IN the boat, not towing it, or holding it between their legs. No swimming or using a life jacket to aid in boat flotation is allowed.
NO pets are allowed in the vessel.
Throwing water on another boat is reason for disqualification.
Contestants are expected to maintain the decorum and dignity expected of a yachtsmen.
Sunken or disqualified boats must be disposed of in the proper trash receptacle.
Clean up your work area after your done building you boat.
THIS IS A FUN EVENT! ANY BEHAVIOR DETRIMENTAL TO THE EVENT WILL RESULT IN DISQUALIFICATION.
Entry fee includes double wall cardboard. You can pick up cardboard ahead of the race to precut you boat.
Call Scott at 262-930-2784 to make arangments for cardboard.
---